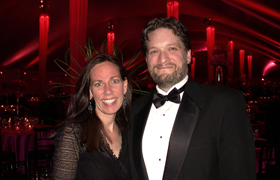 Xunesis cofounder and Executive Director, Robert Morrison with Xunesis Advising Partner, Kristina Stanley at the 2004 MSI Columbian Ball
Xunesis at MSI Columbian Ball
Members of Xunesis volunteered at the Museum of Science and Industry Chicago's annual Columbian Ball. The ball, organized by Xunesis Advising Partner and MSI Manager of Individual Giving, Kristina Stanley, is the principal annual fund raising event for the Museum. The 2004 event raised 1.4 million dollars and is critical to the museum's effort to bring science free to over 330,000 school children each year. For more information on how you can help MSI bring science to the public please visit the MSI website.
Virtual Lab Tours
Collaborating with adaptive education company AI(2), Xunesis is currently in production of a new way to introduce beginning science students to the exciting world of research. Virtual Lab Tours will take the student into the laboratory of top researchers to hear about the questions that drive them and see their methods first hand. All of this is done so that the beginning student can make connections between their current introductory level learning and state-of-the-art research. For more information click here.